How To Make Banana Dog Treats In 5 Easy Steps
Jan 08, 2023
These homemade banana dog treats are perfect for dogs and are made with simple wheat free dog treat ingredients that you likely have on hand.
They're also great for training or to decorate with dog treat icing that doesn't need refrigeration as a special snack. Plus, they're super easy to make!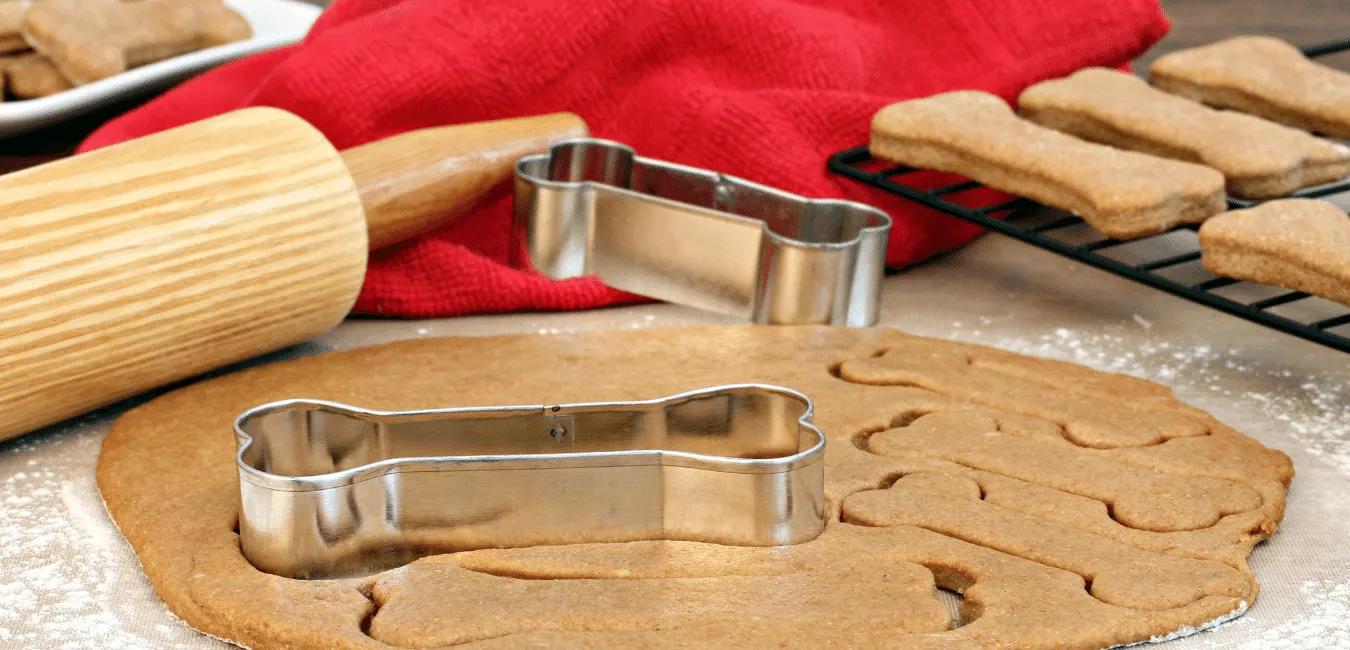 Dog Biscuit Recipe with Banana
Ingredients:
2 1/4 cup oat flour
2 1/4 cup rice flour
1/4 cup coconut flour
1/4 cup ripe banana
1/4 cup honey
3 large eggs
1/4 cup canola or olive oil
1/2 cup water
Directions:
1. Preheat the oven to 350 degrees Fahrenheit.
2. Add the flours, mashed banana, eggs, oil and water and knead until everything is combined. For best results, use a dough hook and a stand mixer.
3. Roll dough and cut out cute cookie cutter shapes. Sprinkle additional flour while rolling if the dough is sticky. Place cutouts on a baking sheet lined with parchment paper.
4. Bake for 7 minutes then flip treats over and bake for an additional 7 minutes.
5. Allow the treats to cool before decorating with dog safe icing. For long lasting treats, shut your oven off and let the treats stay in with the door shut overnight.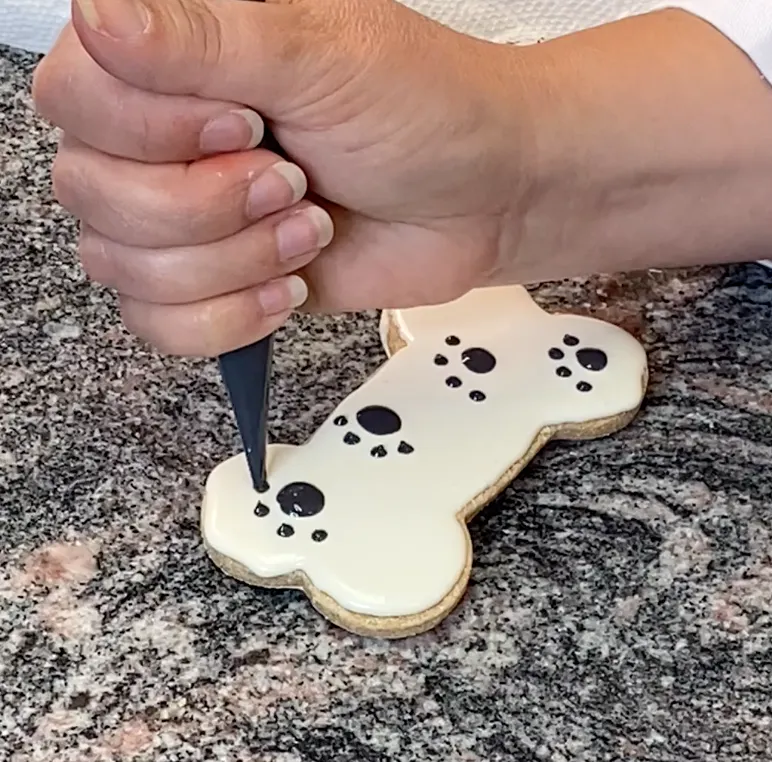 Hard Icing for Dog Treats
While there are many dog treat icing recipes available, most of them do not dry hard, they crack or they need refrigeration. If you want to use what most professional dog treat business owners use, you can order any product from Pastries 4 Pets and your treats will look beautiful! All of guess work from trying to make your own icing for dog treats that hardens recipe is over with this amazing product.
Here is how to decorate with dog safe royal icing...
1. Add 1/2 cup of Pastries 4 Pets Dog Treat Royal Icing to a small bowl.
2. Add 1/2 tsp of all natural dog safe food coloring powder into the same bowl and mix together.
3. Add the amount of water on the package - for example: 2 TBS of water for flooding and mix.
4. Put icing into a decorating bag or use icing in the bowl to dip your homemade treats.
5. Let dry overnight to allow the icing to harden.
Banana Treats for Dogs with Icing that Doesn't Crack
How to Store your Homemade Dog Treats
Storing your dog treats really depends on how you bake them or if you would like them to last for a long time without refrigeration.
If you want your treats to stay a bit on the softer side, you can let the icing air dry and store them in your refrigerator for 3 - 5 days. Or freeze them for up to 6 months, then store them in the refrigerator after you thaw them and let the icing air dry again.
If you would like your dog treats to be stored without refrigeration, you will need to dehydrate them or leave them in your oven overnight, after you bake and shut the oven off. If you are planning to sell dog treats you need to send them to a lab to check on how much moisture they have. The key to a long shelf is to get rid of as much moisture as you can within reason. (Too little moisture will cause your treats to crack)
Once they are complete, you can add your favorite dog treat icing from Pastries 4 Pets and let them stay out without refrigerating them! Be sure to completely air dry the dog icing prior to stacking or packaging the treats.
Here is another helpful article that really explains everything: How to Prevent your Dog Treats from Getting Moldy.