How To Make Peanut Butter Dog Treats with 5 Ingredients
Jan 29, 2023
Homemade peanut butter dog treats are one of the most common dog treats that dog lovers purchase and treat their dogs with. If you sell dog treats at Farmers Markets and want to stand out, be sure to add dog treat icing that doesn't need refrigeration and you'll have dogs (and two legged customers) asking you for more!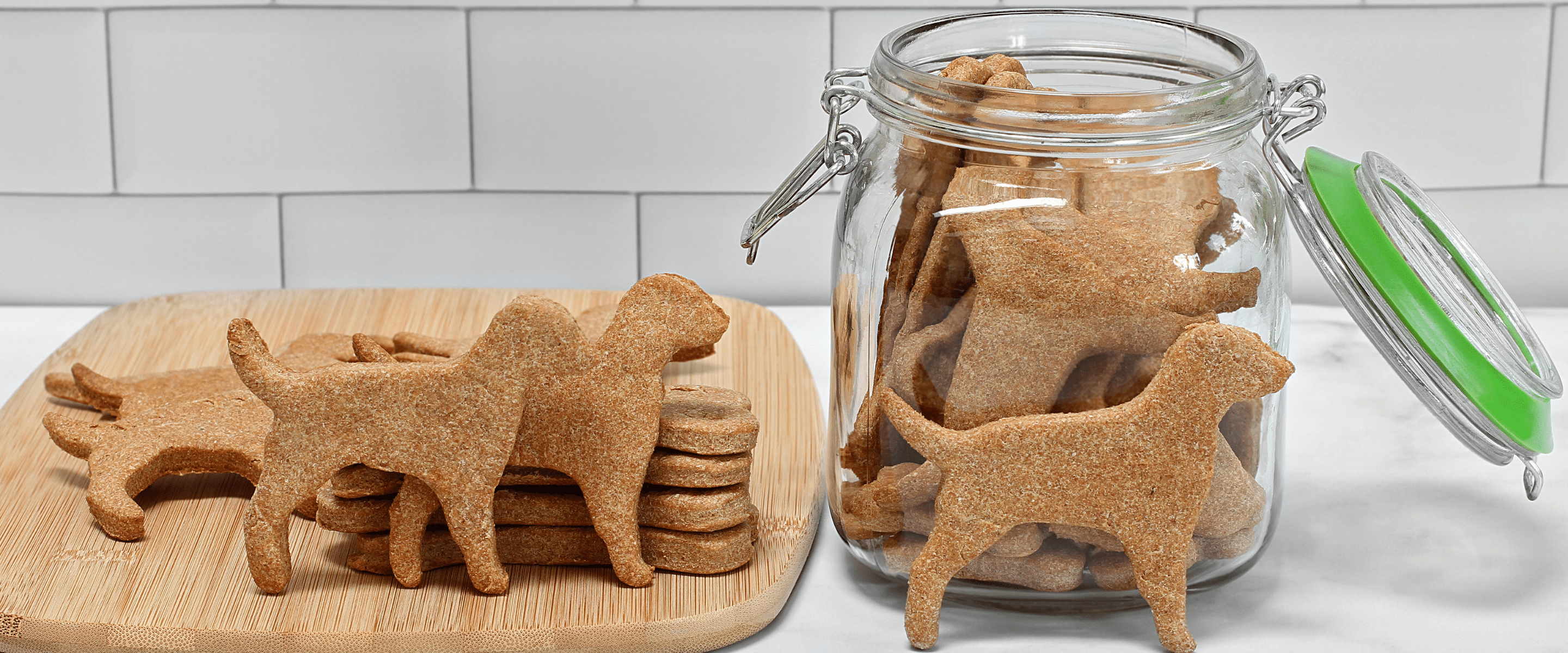 Dog Biscuit Recipe with Peanut Butter
Ingredients:
1 1/2 cup coconut flour
1 cup buckwheat flour
1/4 cup peanut butter
3 large eggs
1/4 cup canola or olive oil
1 cup water
Directions:
1. Preheat the oven to 350 degrees Fahrenheit.
2. Add the flours, peanut butter, eggs, oil and water and knead until everything is combined. For best results, use a dough hook and a stand mixer.
3. Roll dough and cut out cute cookie cutter shapes. Sprinkle additional flour while rolling if the dough is sticky. Place cutouts on a baking sheet lined with parchment paper. Poke small holes in the dough with a fork.
4. Bake for 10 minutes then flip treats over and bake for an additional 10 minutes.
5. Allow the treats to cool before decorating and serving to your pup. For long lasting treats, shut your oven off and let the treats stay in with the door shut overnight.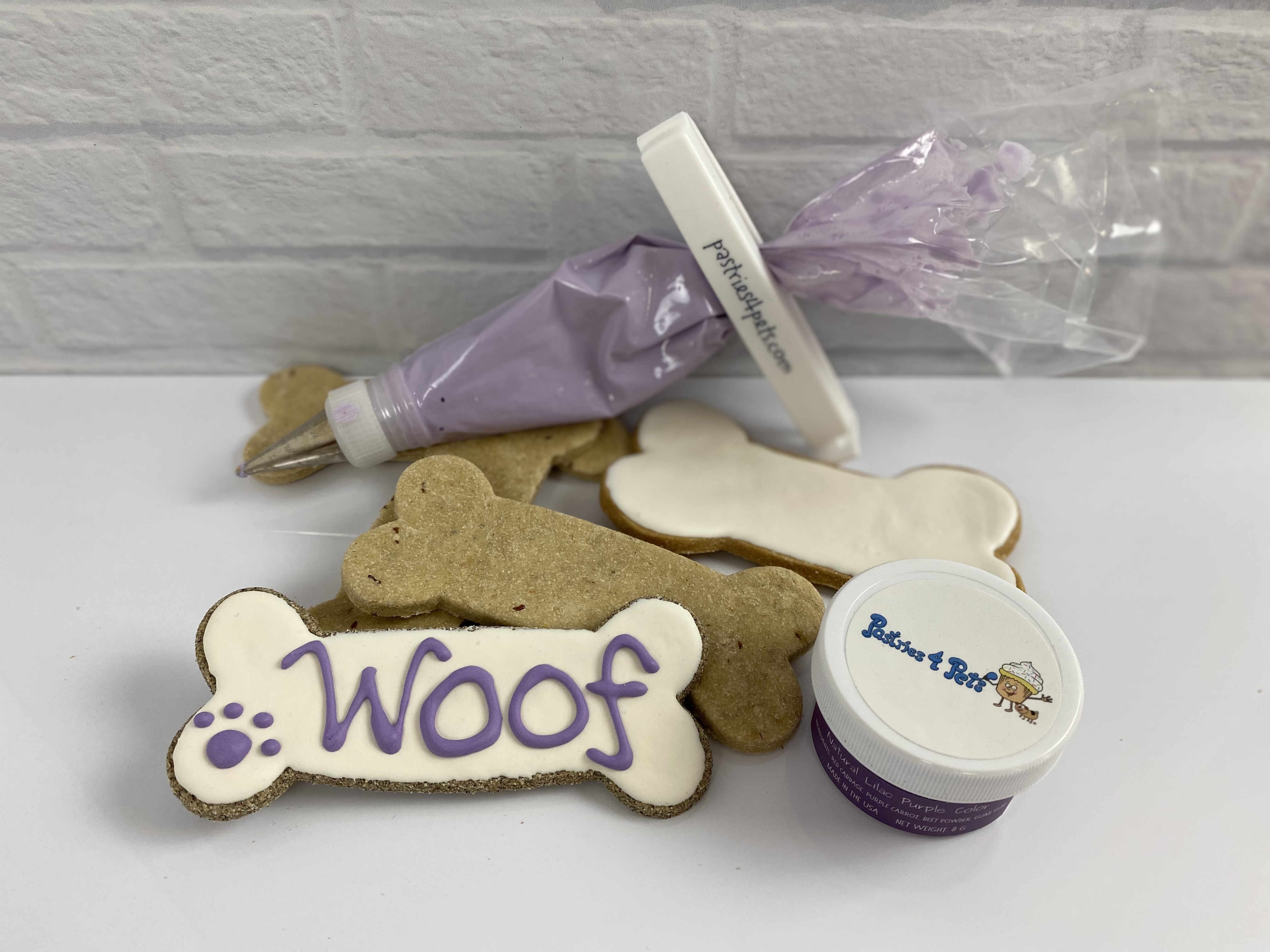 Hard Icing for Dog Treats
While there are many dog treat icing recipes available, most of them do not dry hard, they crack or they need refrigeration. If you want to use what most professional dog treat business owners use, you can order any product from Pastries 4 Pets and your treats will look beautiful! All of guess work from trying to make your own icing for dog treats that hardens recipe is over with this amazing product.
Here is how to decorate with dog safe royal icing...
1. Add 1/2 cup of Pastries 4 Pets Dog Treat Royal Icing to a small bowl.
2. Add 1/2 tsp of all natural dog safe food coloring powder into the same bowl and mix together.
3. Add the amount of water on the package - for example: 2 TBS of water for flooding and mix.
4. Put icing into a decorating bag or use icing in the bowl to dip your homemade treats.
5. Let dry overnight to allow the icing to harden.
How to Bake & Decorate Dog Treats
Here's a step by step video to set you up for success:
How Long will Homemade Dog Treats Last?
Now that you have the best recipe for dog biscuits you'll want to be sure it is a hard dog biscuit that has a long shelf life. So... what is the secret to making homemade dog treats that don't need to be refrigerated?
The first step is to be sure your dog treats are almost moisture free, this prevents them from becoming moldy. You can leave them in your oven overnight, after you bake and shut the oven off. Or you can dehydrate them after you bake them. Once they are complete, you can add your favorite dog treat icing from Pastries 4 Pets and let them stay out without refrigerating them. Really, that's it! You can even eliminate any preservatives that you thought you might need to add. All you need is to dehydrate your home made peanut butter dog treats and you'll have a shelf stable dog treat that you can use for your dogs or to sell from your home based business.
Here are more helpful articles to get your dog treat business started quickly and correctly or to simply bake healthy treats for your own dogs:
How to Prevent your Dog Treats from Getting Moldy.
How to Start a Dog Treat Bakery Business